First Name:
Alema [Meaning Protector]
Middle Name(s):
Aola [Meaning Flower]
Last Name:
Valla [Means Law - Legal in Ryl]
Characters Age:
22
Characters Species:
Twi'lek
Characters Gender:
Female
Characters Home Planet:
Born on Ryloth. Raised on Telos
Languages Learned:
Basic, Ryl, Rodian, Huttese
Character Appearance: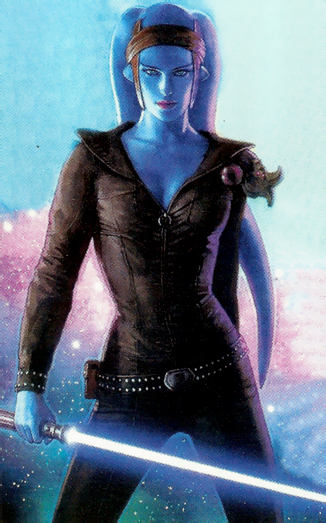 Character Skin:
http://jediknight3.filefront.com/file/Alaora;57185
http://jediknight3.filefront.com/file/Clone_Wars_Aayla_Secura_and_Quinlan_Vos_with_SP_support;71611
Character's Theme(s):[/b] https://www.youtube.com/watch?v=pX2LOu5gzic&feature=bf_prev&list=QL&index=5 [Don't dis the King]
Midiclorian Count:
10,666
Character Faction & Rank:
Jedi Order [ Jedi Padawan - TRANSFER ]
Character Personality:
Quite Civilized, does as told [At times]
Characters Inventory:
[ Equipment belt, Robings, Comlink Hacking Tool, Lightsaber [Blue+Katak] ]
Characters Parents:
Nolaa Valla - Therapist
Nat Silas - TSF Officer
Characters Siblings:Characters History:
We start our Journey before the birth of Alema Valla, daughter of Nolaa Valla and Nat Silas. Nolaa and Nat first met on Telos when Nat was still graduating in the TSF academy while Nolaa was a Student at a school there. The two hooked up as you an imagine dates and more. Nolaa had to had back to Ryloth due to family problems maning she couldn't go to school for a while untill her mother got better from her illness.
Nolaa then discovered after three to four weeks that she was Pregnant, delighted with the news she managed to contact Nat and the two kept in-touch with eachother. Nat having graduated by now managed to get a little time off so he could see Nolaa. After months on Ryloth, Nolaa eventually gave birth to a little girl which they name the Protagonist of our story, Alema Valla meaning Protector of the Law in the Ryl language. Alema, like her mother was a Rutian Twi'lek [Blue skinned], she also had many features of her mother but had her fathers dark brown eyes. When Alema was quite young and at the age of four, the three moved back to Telos where Alema was raised in a good environment, Nat got back into his job in the TSF while Nolaa managed to finish school and become a Therapist.
Alema made lots of friends in school as she grew older, she took a liking into her 'religious' studies and her Ethics classes, one night at the age of 9, came across a stranger in brown robes outside her house. She eye'd the stranger curiously and went to her house seeing her mother and her father and then the brown robed man entered lowering his hood. He knelt down to Alema saying "Are you ready to come with me child?"
Alema looked back at her parents curiously, they nodded and Alema took his hand and nodded to him, she followed him to a shuttle where the two flew off planet towards the Jedi homeworld of Tython. There, Alema was introduced to the Jedi Order and joined it getting her own robes and Training Lightsaber. At 14 she became a Jedi Padawan to an old Jedi Master named Jerrin Tok a Human male aged 53. The two got on quite well and Alema chose the path of the Jedi Gaurdian going for the Jedi Healer specialty and created her first Lightsaber when she was 16... Made of Phrik alloys and a few black like alloys. Housing a Blue crystal and a Katak crystal to do extra Electrical damage to her opponants.
After years of training, Alema had completed her trials. Now by the age of 22, she's been awaiting her Knight trials for some time now... She was told by Jerrin to travel to the Alzoc System to Alzoc 3 where the Jedi were gathering again. She is currently travelling there.